– A court in Lleida, Spain has suspended the lockdown imposed on the city by the regional Catalan government, following a surge in cases in the city. The court accused Catalan authorities of overstepping their authority and stated that only the Spanish government can issue a stay-at-home order.
– Globally, there have been 12.9 million confirmed cases since the outbreak began, with 568,000 deaths. And on Sunday, according to the World Health Organization, a record 230,370 new coronavirus cases were recorded in 24 hours. The Americas had 142,992 cases, Southeast Asia 33,173 cases, Europe 18,804 cases and Africa 17,884. 
– Mexico's death toll has surpassed that of Italy, as more than 35,000 people have now lost their lives in the country. 
– In England, nails bars, beauty salons, spas and tattoo parlors can reopen from today. 
– In Wales, pubs, bars and restaurants can start serving customers outdoors from today and hairdressers can reopen. Scotland has reopened indoor shopping centers but customers must wear face coverings. 
– The global super-rich have called for the wealthy to face a coronavirus tax. The group of more than 80 millionaires (which goes by the name Millionaires for Humanity) on Monday said governments should tax the super-wealthy "immediately, substantially, permanently" to help fund the global recovery from the pandemic. 
– The government of Spain's Balearic Islands, which include Ibiza and Mallorca, has made masks compulsory in public from Monday. Exceptions to the rule include when people are swimming, playing sport or at the beach. 
– Finland has lifted travel restrictions for 17 more European countries and 11 nations outside Europe. The border remains shut to the UK and Sweden, where infection rates remain high. 
– Romania is recording an average of 500 new cases each day and Austria, Greece and Hungary have imposed travel restrictions on Romanians entering their countries. 
– Kosovo has banned public events and religious gatherings after a recent surge in cases. The infection rate now stands close to 150 per 100,000 residents. 
– Long queues of traffic are building up at Croatias border with Slovenia. Over the weekend, there were three-hour queues to get into the country, despite Croatia reporting its highest number of new infections on Saturday.
Isobel Ewing in Budapest
Hungary has reintroduced travel restrictions to prevent the import of coronavirus from abroad, said Gergely Gulyás, Prime Minister Viktor Orbán's chief of staff.
"Hungary is today among the safest countries in Europe," Gulyás said.
But given new outbreaks around the world, the government is putting the health and safety of Hungarians foremost and is doing everything possible to prevent the viruss return, he said.
Countries have been classified into red, yellow and green, based on the severity of the situation in each, Gulyás said, adding that the government was continually monitoring infection data from abroad.
There are "worrying signs" from neighboring countries, he added. Special rules will apply to Hungarian citizens and their relatives. Hungarian citizens can freely enter from a country classified green.
Entry from yellow or red countries will entail undergoing a health check at the border and 14 days in quarantine unless two consecutive negative coronavirus tests taken 48 hours apart within the previous five days can be shown.
The red states and nations include Albania, Bosnia-Herzegovina, Belarus, North Macedonia, Moldova and Montenegro. Africa, South America and the Pacific including New Zealand and Australia are also classified as "red."
The UK and the U.S. are among those in the "yellow" category. The government does not currently plan to introduce any additional restrictive rules within the country.
Nawied Jabarkhyl in London
The UK government says it's tackling more than 100 local outbreaks of  the coronavirus every week. Health Secretary Matt Hancock said the work is taking place behind the scenes and is part of the "targeted" testing system in place to try to curb the spread of the virus. 
Most of the local lockdowns to combat outbreaks would be very specific, he added, and would likely mean small areas or buildings being locked down, rather than entire cities and towns.
Meanwhile, lockdown measures will be further eased across parts of the UK today. In England, beauty salons and tattoo parlors will be allowed to reopen. In Scotland, shopping centers can open their doors and in Wales, some pubs can start trading again, almost four months after first closing.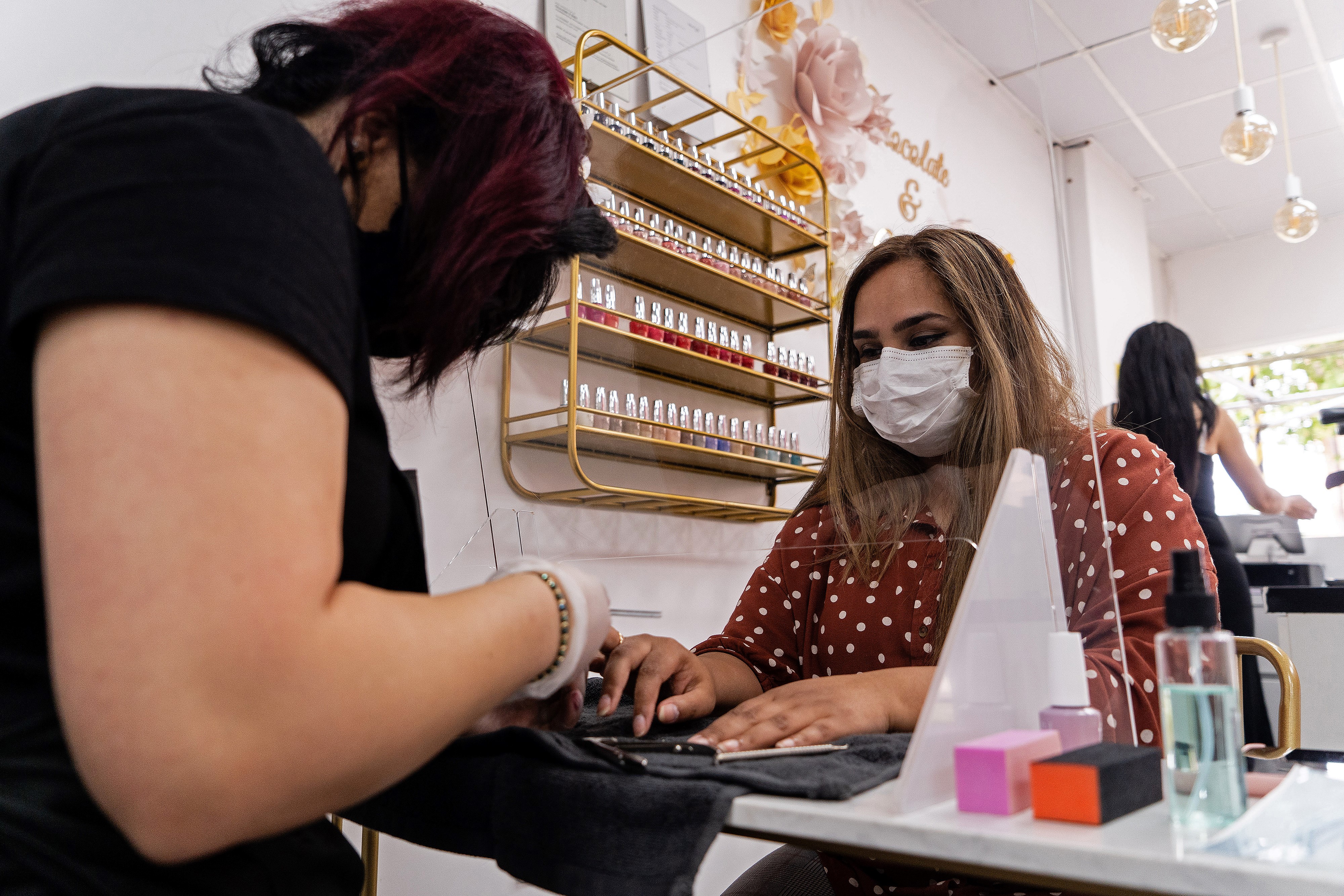 As nail bars, beauty salons and tattoo studios reopen in England, measures such as wearing masks and perspex safety screens are in place. /Niklas Halle'n /AFP
As nail bars, beauty salons and tattoo studios reopen in England, measures such as wearing masks and perspex safety screens are in place. /Niklas Halle'n /AFP
Holly Hudson in Frankfurt 
German Chancellor Angela Merkel is due to welcome Italy's Prime Minister Giuseppe Conte at Meseberg Castle, north of Berlin, on Monday. 
Their talks come ahead of the first face-to-face meeting between all European leaders at an EU summit later this week, when the heads of state are expected to discuss the bloc's proposed economic recovery plans. 
All 27 EU leaders need to approve the plans but disagreements remain between EU member states over the 750 billion euro ($850 billion) bailout fund, of which Italy and Spain are set to be the biggest beneficiaries.
Spanish Prime Minister Pedro Sánchez will meet with Angela Merkel on Tuesday. 
Lucy Hough in Brussels
Belgium is averaging nearly 88 new infections a day, with 137 new cases reported in a 24-hour period over the weekend. This marks a slight increase of 4 percent from the week before, with the downward trend of the number of new cases slowing in recent. 
Local health authorities are warning the virus has not disappeared from the country, with masks now mandatory in shops, museums and places of worship. 
Only 3.5 million of the 12 million face masks ordered by the Belgian federal government have been distributed so far, meaning millions of free masks are available in pharmacies on presentation of a national identity card.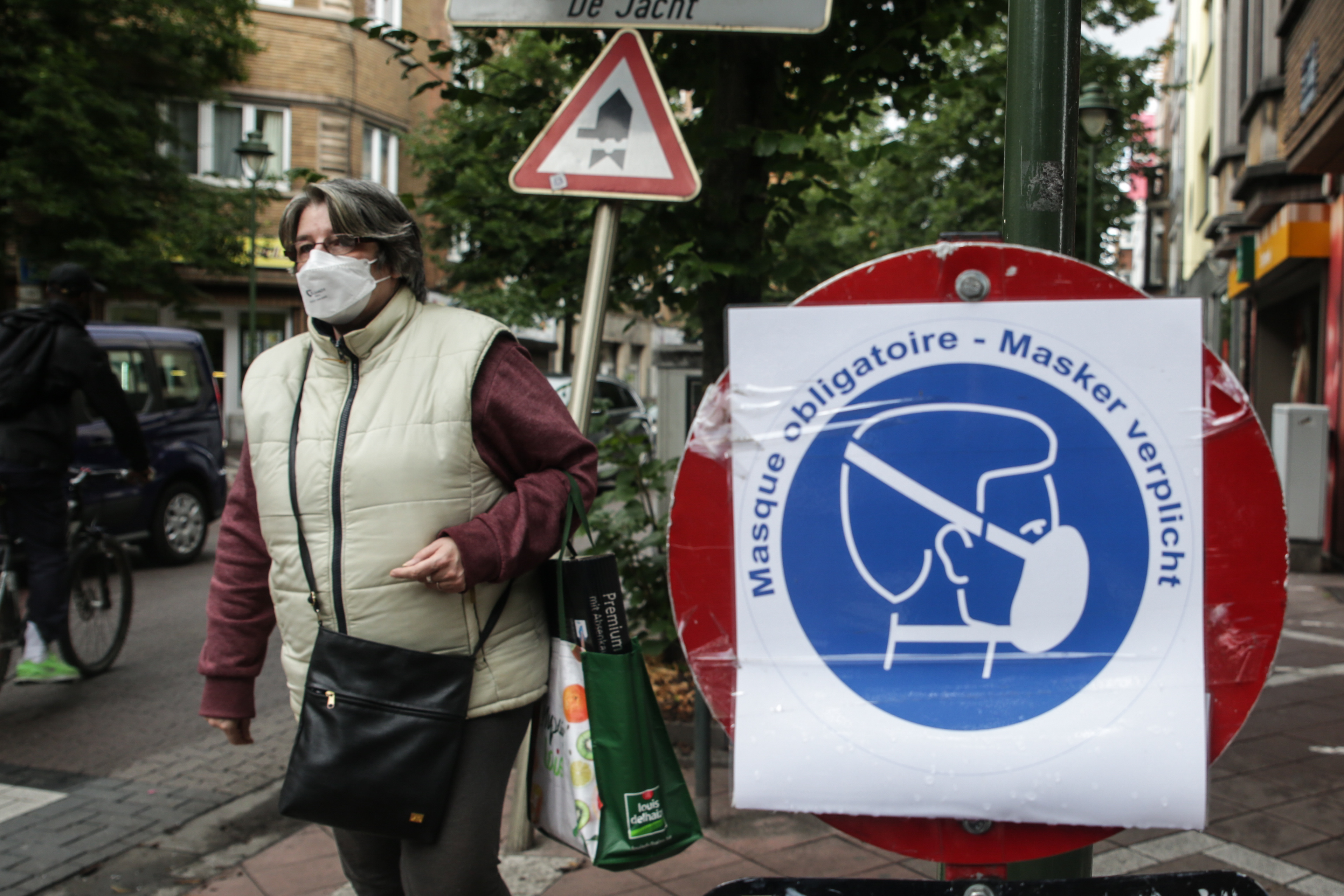 Wearing a face mask is compulsory in Belgian shops, cinemas, entertainment venues and other indoor spaces. /Aris Oikonomou/ AFP
Wearing a face mask is compulsory in Belgian shops, cinemas, entertainment venues and other indoor spaces. /Aris Oikonomou/ AFP
FROM OUR GLOBAL COLLEAGUES
 
CGTN Europe podcast: Notes on a pandemic: Science rules
CGTN China: Chinese mainland reports 8 virus cases from overseas, no local ones
CGTN America: Ex-pats hunkered down in Mexico to ride out COVID-19 pandemic
CGTN Africa: Two Madagascar lawmakers die after testing positive for COVID-19
Sign up here to get the COVID-19 Europe bulletin sent directly to your inbox
CGTN Europe has been providing in-depth coverage of the novel coronavirus story as it has unfolded. Here you can read the essential information about the crisis.